Wednesday, 15 July 2009
Mentions here and there
This blog has been selected as one of the Best Travel Guide blogs for 2009 by Tripbase in their inaugural travel blog awards: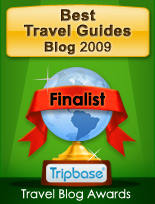 WomenEntrepreneur.com singles me out as follows:
Get the Inside Scoop on Travel: Here are 5 bloggers who offer eye-opening advice and information about life on the road

"The Practical Nomad" is written by consumer advocate, journalist and speaker Edward Hasbrouck, who has earned kudos for his dogged reporting on airfare discounts, independent travel and traveler privacy. His tough copy on traveler and data-privacy issues earned him an award for investigative reporting from the Society of American Travel Writers Foundation, and he's frequently quoted in the mainstream business and technology press. If you've ever wondered who can access information about you (not just your name, address and contact numbers, but your travel patterns, credit card and frequent flyer numbers, and who paid for your ticket), read his blog. It's chilling. If you'd rather not freak out over the implications of lax privacy oversight, read his Practical Nomad travel guides instead—they'll give even the most burnt-out road warrior incentive to get on another plane.
And ZDNet refers readers to one of my articles for more background to Robin Harris' column, RFID passports: a tragedy waiting to happen . There's more on the subject here and here . For the related issues of RFID chips in drivers licenses and other ID cards, see my articles here and here (from the Identity Project) and this excellent recent AP story.
Thanks for all the kind words, thanks for visiting, … and bon voyage!
Link | Posted by Edward on Wednesday, 15 July 2009, 21:29 ( 9:29 PM)