Saturday, 26 June 2021
Letters to the Boston Globe: "Let's run Selective Service up the flagpole and see if anyone salutes"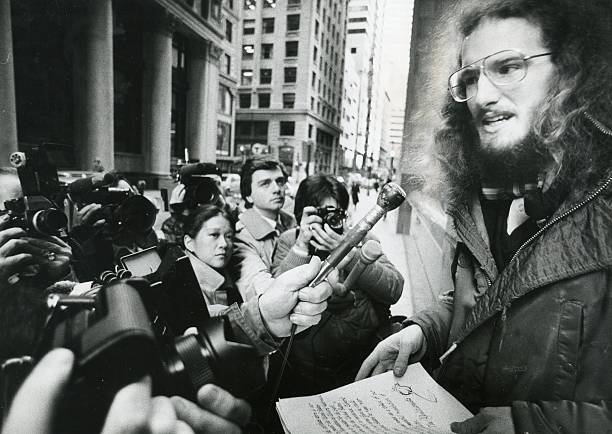 [Edward Hasbrouck outside the Federal courthouse in Post Office Square, Boston, before his sentencing for refusal to register with the Selective Service System, 14 January 1983. Photo by Tom Landers, Boston Globe, via Getty Images]
The Boston Globe devotes its letters page today to a selection of responses to Jeff Jacoby's column last Sunday, Women don't register for the draft, and men shouldn't either.
The letters to the Globe published today include one from me (as below, illustrated with a photo from the Globe archives of me outside the old Federal courthouse in Post Office Square in Boston before being sentenced for refusing to register for the draft on Martin Luther King, Jr., Day — not yet then a Federal holiday — in 1983) and one from another unrepentant 1980s draft registration resister, Stuart M. Wax.
(For why young men continue to resist draft registration today, and why it remains important for older allies of peace and freedom to support them, see Ethan Foote's eloquent essay, Draft Registration Demands Resistance, recently published on Waging Nonviolence and on my Web site.)
While some of the other letters published by the Globe today support conscription in the form of a draft or compulsory national service, thay all made clear that the real debate about the draft and draft registration is about military conscription, not gender equality.
Longtime activist wants to see an end to draft registration.

As the only person since the end of the draft for the Vietnam War to have been prosecuted in Massachusetts for refusing to register with the Selective Service System, I was pleased to see Jeff Jacoby's column calling for an end to draft registration "Women don't register for the draft, and men shouldn't either," Ideas, June 20).

Prosecutions of draft registration resisters were abandoned as ineffective after the handful of show trials in the 1980s served only to encourage resistance. Bernard Rostker, former director of the Selective Service System, testified to the National Commission on Military, National, and Public Service in 2019 that widespread noncompliance makes the current database so incomplete and inaccurate as to be "less than useless" for an actual draft. As I pointed out in my testimony to the commission, any proposal to continue or expand draft registration "is a naive fantasy unless it includes a credible enforcement plan and budget," and current proposals don't.

The bipartisan Selective Service Repeal Act of 2021 is pending in Congress, and this issue is likely to be taken up by the House Subcommittee on Military Personnel next month. Several previous proposals to end draft registration were cosponsored by then-representatives Barney Frank, Democrat of Massachusetts, and Ron Paul, Republican of Texas. Senator Rand Paul, Republican of Kentucky, is one of the original sponsors of the current bill, along with Representative Peter DeFazio, Oregon Democrat and Massachusetts native.

[PHOTO: In this file photo, Edward Hasbrouck, who refused to register for the draft, talks with reporters outside federal court in Boston on Jan. 14, 1983. Tom Landers, Globe Staff.]

New England has long been a center of draft resistance and antiwar activism, and there are many New England members on the House and Senate Armed Services Committees to which these bills have been referred. But no New England representative or senator has yet endorsed the current proposals to end draft registration.

As other anti-draft activists and I said in an open letter to the Armed Services Committee leadership this year, calling for a congressional hearing — which has yet to be held — on this issue, "Expanding draft registration to women would bring about a semblance of equality in war (although women in the military would likely still be subject to disproportionate sexual harassment and abuse). Ending draft registration would bring about real equality in peace and freedom."

Edward Hasbrouck

Wellesley Hills
Link | Posted by Edward on Saturday, 26 June 2021, 05:47 ( 5:47 AM)