Abolish the Selective Service System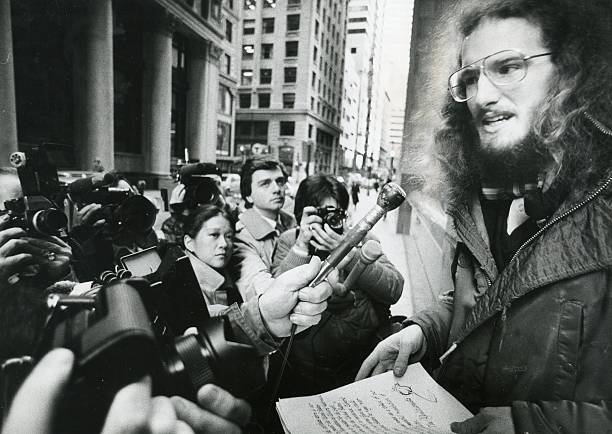 [Edward Hasbrouck outside the Federal courthouse in Boston before his sentencing for refusal to register with the Selective Service System, 14 January 1983. Photo by Tom Landers, Boston Globe, via Getty Images]
A Letter to Senators and Representatives in Congress
(The letter below was written in 1999, but more than 20 years later, it remains timely and Congress has yet to act.)
I urge you to eliminate funding for the Selective Service System, and I urge the President to exercise his authority to issue a Presidential proclamation ending the requirement for young men to register with the Selective Service System for a possible military draft.
Draft registration has long since failed, and it is time for even those who support the draft to admit the failure of draft registration. Millions of men subject to draft registration — myself included — have refused to register or simply ignored the registration requirement. As several GAO audits of registration records have documented, very few registrants notify the Selective Service System when they move, and the great majority of registrations of draft-age men do not contain enough current information to ensure that a draft notice would actually reach the registrant. The present registration lists do not provide the basis for an equitable draft or one that the American people would be willing to accept.
I was one of the first group of young men whom the Selective Service System tried to get to register when draft registration was reinstated in 1980. So many of us did not register — at least one million in that first cohort alone — that both the Selective Service System and the Department of Justice recognized (in internal documents that were eventually made public in discriminatory-prosecution hearings) that it would be impossible to prosecute more than a token few non-registrants.
The stated hope of SSS and DoJ officials at that time was that "an initial round of well-publicized prosecutions" might "generate sufficient registrations to preserve the credibility of the system". They didn't. Instead, the prosecution of myself and 19 others who were identified by the SSS and the DoJ as the "most vocal" non-registrants (from among those who had made public statements which could be used to prove their knowledge of the registration requirement — those who made no such statements couldn't be prosecuted for "knowing" non-registration) served only to call attention to the extent of the resistance to registration, and to the inability of the government to enforce registration.
Draft registration rates in the district in which I was tried, convicted, and sentenced to prison declined thereafter, as they did in most of the districts in which the show trials of selected non-registrants were held. Enforcement of the registration requirement was abandoned in failure. No one has been prosecuted for nonregistration since 1986 — not because everyone registers, but because registration has proven unenforceable.
But more is wrong with draft registration than that it is a failure. And more is wrong with the draft than just that it is discriminatory and totalitarian, subjecting young men to selective slavery on no other criteria than that they are young and male.
What's worst about the continued existence of draft registration is that it fosters the illusions of those who believe that a draft is possible. And what's worst about a draft is that it fosters the illusions of those who believe that making war without the consent of the people is not merely possible but the American way.
They are wrong. Those who believe that the American people will fight, kill, and die for no better reason than "because we say so" or "because it's the law" are deluding themselves. Whether you like it or not, I urge you to accept the reality of the failure of draft registration, and — more importantly — to accept the reality of its lesson: the ultimate decision about which wars to fight will be made, as it always has been, by those who are asked to fight those wars. You cannot make war without our consent, and it's long past time for you to recognize that reality and to reorganize your military policies on that foundation. Whether we will fight or kill, and if so whom we will kill, is — like it or not — our choice, not yours. It's time for you to get realistic about it.
As one of those token few who was prosecuted, convicted, and imprisoned for resisting and organizing against draft registration, may I also remind you of the futility, indeed counterproductivity, of prosecuting dissenters or imprisoning in people for their beliefs. I'm still in touch intermittently with many of the other 20 indicted non-registrants, and I can say with considerable confidence that none of us were politically "rehabilitated" by the experience of prosecution and imprisonment. I'd do it again I were asked to register, much less to be drafted, tomorrow.
I urge you to acknowledge the failure of draft registration and the impossibility of a draft, and to begin to restore democracy to American military decision-making by abolishing the Selective Service System.
Peace,
8 September 1999